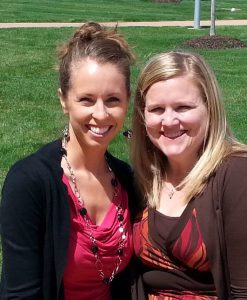 Dr. Schnitker (L) Dr. Hippard (R)
Dr. Stephanie Schnitker
Owner of Mascoutah Chiropractic Ltd.
Chiropractic Physician
Dr. Schnitker graduated from Nashville Community High School. She graduated Magna Cum Laude from Barry University with a major in Ultrasonography and a minor in Biology. She worked at St. Elizabeth's hospital as a Registered Cardiac and Vascular Diagnostic Sonographer for many years. She then furthered her education and received a Doctor of Chiropractic from Logan University in Chesterfield. She received a Certificate of Appreciation and the Health Center Achievement Award based on her performance in the clinical setting. She then took over Mascoutah Chiropractic Ltd. Dr. Schnitker uses a range of noninvasive techniques to treat musculoskeletal issues. Her objective at Mascoutah Chiropractic is to reduce pain and get you back to your regular activities as soon as possible. Dr. Schnitker has over fifteen years of experience working in the healthcare field and evaluates every situation on an individual basis. She strives to educate and empower all patients to make proactive healthcare choices and live a preventative lifestyle.
She is married to Justin Schnitker, a self-employed farmer from Nashville, IL.
Dr. Michelle Hippard
Chiropractic Physician
Dr. Hippard is committed to helping families in the community experience improved health and vitality. She enjoys educating others on how to manage stress better, how to prevent injury in the workplace and at home, and how to maintain peak performance in all facets of life. Her mission is to empower as many people as possible to experience their optimal health potential through genuine care and education.
Dr. Hippard received her Doctor of Chiropractic from Logan College of Chiropractic. The techniques she utilizes include: Diversified, Thompson, and Cox-Flexion/Distraction. The office also performs physical therapy and rehabilitation. Her love of chiropractic and genuine concern for others drive her pursuit of excellence in her work as well as her service to the community. Dr. Hippard has over fifteen years of experience working in the healthcare field.
Dr. Hippard lives in Mascoutah, IL with her husband Ben and their two children Makenzie and Nathan. She also enjoys playing volleyball with her Spikin' Hot Mamas.